08 November 2006
Jury Duty, Schmury Duty. We're just not going to talk about that.

First, I give you a Puppy Shot! Miss Stella *loves* to launch herself off the top of the two steps going down into the living room. Here she is mid-air, chasing after her tennis ball.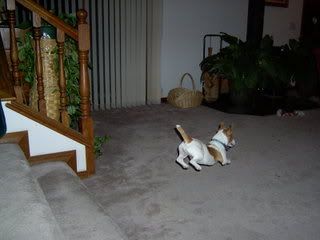 And during my lunch hour today, I wasn't hungry, so I decided "Oh! There'a a Yarn Store up the street that I never have time to get up to!" I have never been in this store. Looked in the windows when I've been up there after they were closed, but never stepped foot in there.

I came, I looked, I bought.

Buying ban? Wha'? I don't unnerstand... b... ban?

(Right. I know. A knitting-stuff-buying-ban. I completely forgot about it once I entered that store. I use the Twinkie Defense! Even though I haven't had a twinkie since .... well, it's been many years.)

This is the yarn I bought today. It's called 18 Carat (or Karat?). One is a silver sparkly one, the other is a pink sparkly. The photo doesn't nearly do the colours justice, but there you go. One of these will go up the cable of the scarf I mentioned waaay back when (you know, the one out of the pink baby alpaca? That one.).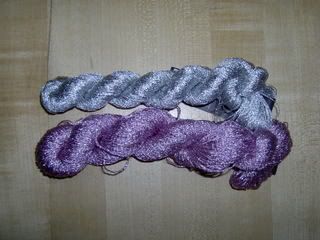 This was my last purchase before my knitting-stuff-buying-ban really went into effect. Two blue laceweights from HPY. One is Azul Bolita, the other Oceanos. I'm not sure which is which, and I don't really care enough to figure it out...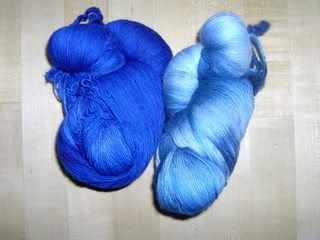 Jury duty at 9a. Bed calls.
Posted by

Kalah
at 8:56 PM
No comments:

05 November 2006
I was happily on vacation from October 21st - 29th. Went to Indiana to visit a dear friend and, I think, I need to go back!

See, I got back late late late Sunday night, the 29th.

On Monday after work, I picked up my puppy. She's 5 months old, she's a Jack Russell, her name is Stella.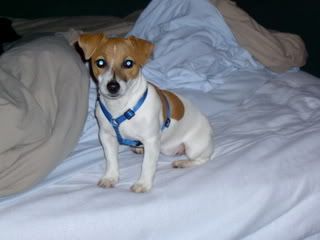 On Tuesday, I was to report for jury duty (jury selection). My group was postponed until Wednesday. So, Wednesday I go in, and lucky me - I was chosen to sit on the jury. Say hello to Juror Number Three.... Jury Duty is Tues-Thurs from 8:30a to 4:30p until the case is done. So you know? This is the most boring thing I have ever done in my life. EVER.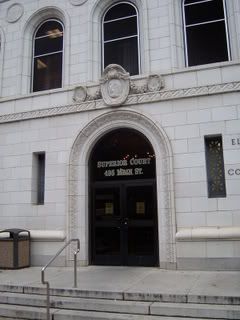 The small town where the court house is has a parking garage. Three floors. With narrow-ish tight tunnels going from floor to floor.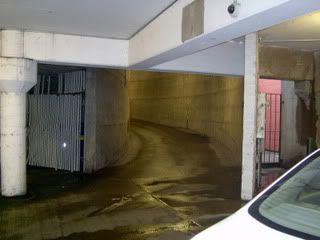 What happened on Thursday, you ask? Well, on the TWO HOUR LUNCH we were given (wasting my time, thank you), I was leaving the parking garage to go home and let the dogs out. I scratched my truck on the parking garage wall. (I took my dad's Honda car back - it fits much better!).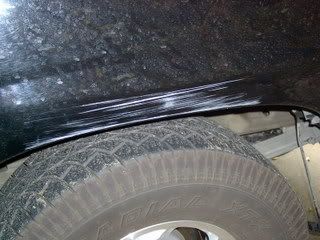 I don't want to be on jury duty again. I'm glad I got to experience it this once, but from now on? I will tell the judge and attorneys that I don't have the ability to stay awake when things are this boring. It's a very honest statement. It doesn't matter that I just had a double latte. It just doesn't! (I did try the "I have a very close family friend on the Sheriff's Department, my uncle's a retired cop, and my neighbour was a retired cop." That didn't work.)

Posted by

Kalah
at 2:27 PM
No comments: