I worked on my room today. [Knitting? What about knitting?! Right. Well. I'll get to that.] But here's the entrance to my room. Walk straight back down the hall, and you will run into something. Chances are it's my door or my bookcase.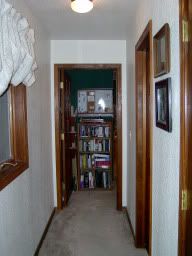 First I'm going to show you what I did today. This picture here? Do you see that nice dresser/entertainment unit on the right? That was just moved down from upstairs. Heavy SOB, that. And the dresser in the closet there? That was where the entertainment unit now sits. I had my tv, vcr, dvd player, satellite receiver, and alarm clock all perched vewy vewy cawefully atop the dresser. Perch no longer! They have their own home now ... tv and alarm clock are hidden behind the doors, and the satellite receiver, dvd and vcr are under the doors in that space before the drawers. (Three more drawers for clothes, yay!)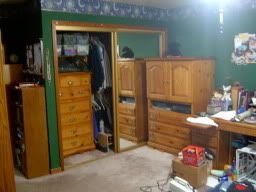 This is my bed. With, count them, five pillows. I love pillows. The main one is a king sized white down feather pillow. LOVE IT! There's another feather pillow in the pile somewhere, and other pillows... One me, lots of pillows. Happy me. :) I also changed the sheets and the comforter cover, since they were covered with black Lab hair. The black Lab sleeps with me when I'm babysitting him. He sheds. A lot. (The ball doesn't live on my bed. it was just in the way when I was walking around in there, so that was the best place to toss it.)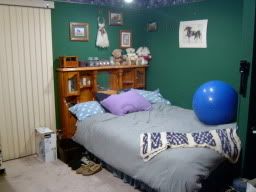 This is my desk, my computer desk [the corner unit there with the flat monitor on it], and is my next project to tackle. You can't see it, but last weekend I tossed all sorts of crap from the drawers. You should've seen all the files that went Hasta La Byebye! Next weekend I hope to make this corner of the room organized and clean. That's the plan anyway. That mess drives me mad!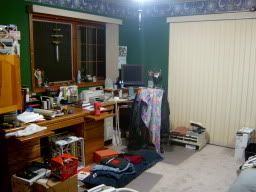 This is the way out, in case you got lost in that last mess. Another bookcase, yes. One warning for those of you who don't really think ahead on some things, like me: Measure the distance between things to make sure there's room to "move stuff". Between the tall bookcase on the left and the 4 footer on the right, I only had about 1/4 - 1/2" to spare when pulling the entertainment unit in. Things were interesting there for a moment...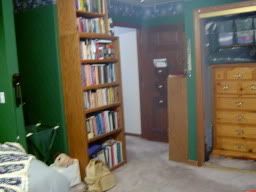 *** KNITTING UPDATE!! *** KNITTING UPDATE!! ***

Okay. So. Regardless of whether I want to knit now or not, I can't, because I still have about two weeks to go with a finger brace on my right index finger. That's an important knitting finger, to me. BUT. I have plans to sign up for a knitting class! Yes, ME!! It's a beginner II class ... for those of us who have done the scarves, this one is teaching us to knit in the round, doing increases/decreases, etc. Very nice! This is at a new knitting shop that opened locally earlier this month. The class starts in April, is on Saturdays for 3-4 weeks in a row, and a client of mine wants to take it with me. It'll be loads of fun!!! I already have the days crossed off in my appt book...