So what if it's a bit more than a week still until my birthday! Tracy sent me a birthday package, which arrived on Thursday. A happy addition to a beautiful sunshine-filled day! I opened the box, and inside I found several wrapped items. This is the box with everything in it, no longer wrapped... ;)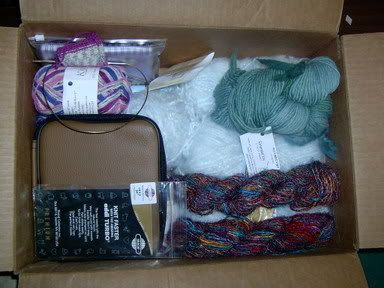 There on the upper left side is a ball of Knit Picks Parade yarn, currently being swatched on the included #5 Addi Turbos. There are five balls of that yarn for me to play with! I love how it's going to stripe itself - FUN!! And those Addi Turbos ... Oh. My. Gosh. I LOVE them! So fabulous! (So you know, on the package for the Addi's, there is a warning which states "if used by untrained persons this tool may cause bodily harm." I'm not THAT much of a klutz!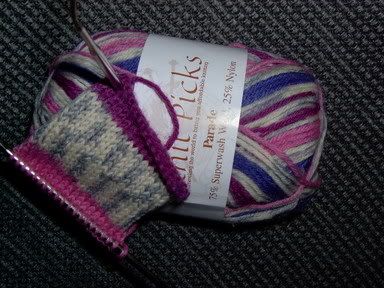 On the lower left part of the box is the brown leather (or leather-like) zip case, which contains ...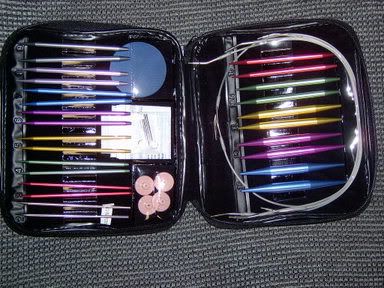 Tadaaaa! The Boye Circular set! (The proper name is something like "Boye NeedleMaster Interchangeable Needle Set" or ... something.) All sizes I'll ever need to try stuff out, apparently! How utterly rad is that?!

Now, this yarn. This yarn I absolutely love. LOVE! The colours are so wonderful! Tracy included two, er, hanks? (knitterology totally escapes me right now) of this yarn. What am I going to do with it, you ask? I am going to admire it.




See? It'll be very easy to just admire this yarn for awhile. It doesn't need to be made into anything yet. It only needs to exist.

Tracy also included a hank of Malabrigo Worsted Merino Wool. The card says Emerald, but it looks more Seafoam in colour. I think it will need a pink/purple/blue type of colour with it.

That baby blue yarn you see underneath everything? That wasn't part of my birthday present; it was just yarn that nobody down Tracy's way wanted. From how T talked about this yarn with such disdain, I think I am either going to hate it, or be stubborn enough to make it work for SOMETHING. It is a very furry yarn that appears to tangle quite easily. "USE LARGE NEEDLES" is what I was told. We'll see what happens!

Also included in the box is a cute stationary (or is it stationery? I really don't remember... to the horror of all those years of schooling I've had.) set which includes a small spiral-bound notebook, a pencil, the cutest holepunch I've ever seen, a lil' stapler, and little clips to clip papers or anything else you may want to clip! Also with this is a cute pencil holder which MAY be used to hold things other than pencils...

Now for my Wednesday and Friday evening shopping experiences at Sierra Knitting Co., located in Cameron Park. (I have to keep plugging these guys - they're wonderful!)

On Wednesday I went in looking for a soft something to make a new hat out of. I felt up a lot of yarn... and found Misti Alpaca's 100% wonderful Baby Alpaca! It's so amazingly soft ... I'm just in heaven! It's a medium-dark green with tiny slivers of orangish throughout. And so soft. SO soft!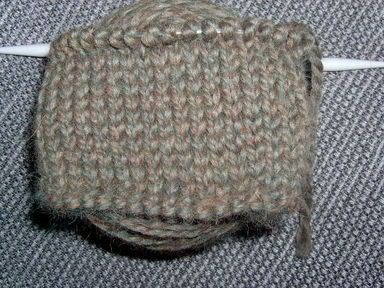 THEN, on Friday, I had to go back to the store again (oh darn!) to pick up the dpns I'll need for the size circs I bought on Wednesday (to go with the yarn...). And then bought more dpns to round out the sizes I will likely need in the not-too-distant future.




(See the bag? Sierra Knitting Co. Have I told you I like them? And? And?! They may be expanding their store, which may include an area to just come in and KNIT!!!)

Oh, I also bought new stitch markers, because I am housesitting and left that kind of stuff at home. I bought them for their colours ... bright green and purple. How could I resist!? But now I'm home posting pics for y'all, and will grab my stitch markers (I think they may be more flat than the ones I just picked up, which will be perfect for the Knit Picks project; I'll use my new ones for the baby alpaca project.), my measuring tape, and anything else I may need for my 9 remaining days of housesitting. Whew!

(And so you know, this is a record for me. Two projects kind of going at once. WOW! I feel the need to do aran-style cables on the knit picks yarn/hat. I am looking SO forward to seeing how that yarn stripes up in a hat, and am also looking forward to using the Addi's!)

Another quick note: Sierra Knitting Co. is hopefully going to start carrying those Addi Turbos pretty soon. Yay! As if I don't spend enough money on my horse and for gas for the truck...!

:) I'm so happy with these new additions to my Knitting Stuff. Don't I have one of the best cousins ever?! Tracy, thank you SO MUCH!!! And see, I may take a long break from knitting, but I come back! ;)