"What has she been doing?" perhaps you wonder. Well, no, it's not knitting I've been doing. You see, some of you read about the mudslide we had a few months ago. We decided to rip up all the carpet, which meant moving everything either outside or upstairs depending on what it was, and move the damn dreaded pool table. (Anyone want a pool table? Bar sized, 1 piece of slate, heavy mo'fo. You want it, you have to move the bloody thing. Currently it resides in a garage in Folsom.) We are now having tile installed (Tile Guy is very nice, though I'm not sure why you need to know that.). Friday entailed sanding the cement that was under the carpet and painting this noxious stuff on it. Saturday the tiles started going down. Today at 7am, the tiling resumed. MAYBE by the end of the week, the tile will be complete, which would mean we could start moving stuff in, which means my Knitting Chair would come back in. In the meantime, I do have several projects planning themselves in my brain - one of which is a pair of socks!

So, here's some of what I have been doing.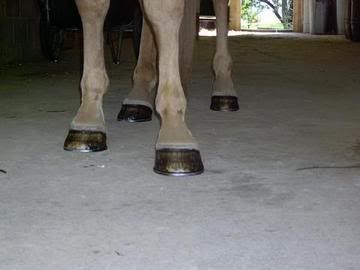 This is my horse. Blondie. The Blonde One. Thursday morning the front shoes went on, Friday morning the hind shoes went on, Saturday I clipped his legs up, and now he's ready to work.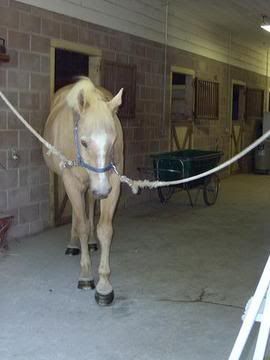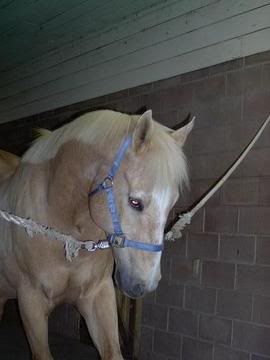 He's pawing the air in these photos. He knows he'll get yelled at if he paws the cement.

This week is a busy week with family birthdays, then Father's Day on the weekend, so ... maybe knitting will resume Sunday evening? I DO need to swatch up my KnitPicks Parade yarn with those little US3 dpns I got awhile back....